I bought a 1967 VW bus today! This marks the beginning of what I hope will be an exciting and entertaining adventure. I know very little about cars, I haven't ever changed my own oil, and don't really know how to drive a stick shift. I don't really know what I'm getting myself into, but at the same time I am extremely pumped to get this project started. My wife Noelle and I bought this bus, and we plan on restoring and converting it into a camper – and hopefully learning a lot along the way. I am confident that I will be able to figure out just about anything that might come up, and this blog is meant to keep a record of the crazy stories and experiences that are sure to follow. I welcome all kinds of feedback and advice – I'm pretty much clueless and you can help me learn as I go!
I bought my bus from John in Florida. He picked it up a year or so ago from a guy in Georgia. It sat in a field there for a number of years, but appears to be in fairly good shape. He claimed the engine ran well, and it looked mostly rust free from the pictures. And, being in Florida meant that we could make a little side trip to Disney!
When you're at Disney, you know you're screwed when you're pissed off before you even get through the entrance gate. It all started when our hotel bus was 10 minutes late. If you've never been to Disney – just know that 10 minutes can mean the difference between seeing "Mickey's Morning Show" – or whatever it's called – and not. And if we miss the Mickey morning show – Wifey gets a little miffed. Luckily, by grabbing a quick Monorail , then shoving our way through hoards of people on a ferry, we showed up at the gate just in time.
Noelle's a bit of a freak when it comes to Disney. Which means we typically have our itinerary planned to the minute. That's not say we actually follow that itinerary when we get there – but we've got it. My theory on Disney is – it's best to have a plan and be flexible. When you spend $200 to get into a place for a day – you gotta have a good time and get your money's worth. We basically did all you could do in Magic Kingdom, and overall we had a great day – we found a perfect spot to view the nightly fireworks and rewarded ourselves with a taxi ride back to the hotel.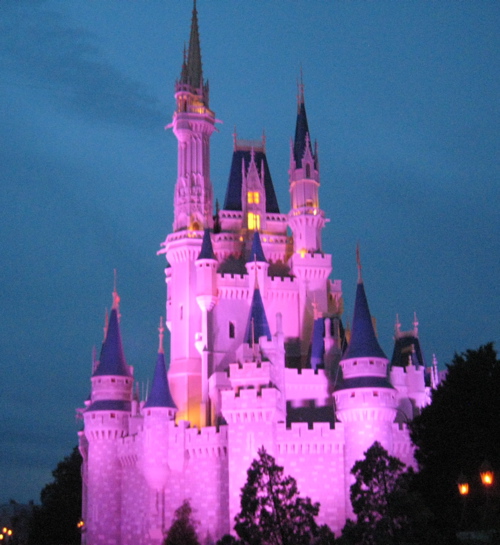 We arrived at midnight, hoping to get as much sleep as we could before the drive the next day – but wanted to check on the bus before we turned in. We walked out to the parking lot and noticed right away that one taillight on the trailer was shining brightly – not a good sign. Sure enough, for some reason the trailer light had come on some time during the day, and the battery in the jeep was dead.
No worries though – it was a U-haul hitch, a U-haul trailer, and we had paid for U-haul roadside assistance. When I finally got in touch with the U-haul representative, I was dismayed to learn that they could not actually send someone to jump start the car because it was personal vehicle. When I tried to argue that it was their trailer and their hitch installation that caused the issue, the woman mentioned she could not send anyone to help – but offered the following sage advice:
"Pump the brakes three times, turn the key one notch, wait 20 seconds, and then try and start the car….and if that doesn't work…try it two more times ….
I replied "thanks for your …um…advice…that's the stupidest thing I've ever heard" – okay so I didn't say that last part… but I wanted to
Luckily Noelle has AAA coverage. The guys were there in 30 minutes, and got us up and running – they were really cool and loved the bus. We charged the car for a while, rinsed off a day of residual Disney sweat and glitter, and called it day.